Crew Registration
New Crew wishing to sail on racing yachts, please fill in the form.
You will then be placed on the list below.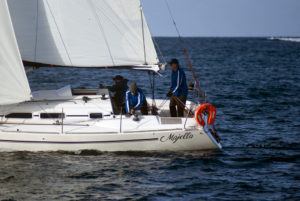 Sailing experience is not necessary, just a desire to discover.
You will also be contacted and put in touch with skippers to get you placed as quickly as possible.
Initially it will be to gain some experience on a yacht, so you may race on a series of boats until we can place you permanently.
Crew - please note;
You must notify John Barter on 0418 253 479 and advise that you are available for the coming race. You will then be placed at the top of the list and Skippers will be notified of available crew. You need to let us know for each sailing day you are available.
The race program for Sundays is here. We sail all Wednesday except the Christmas period.
Skippers;
Looking for Crew can see who is available for the next race and can make direct contact.
Crew available for next race are shown at top of the list. Please SMS John B after placing crew.
Active Crew Listing
NAME
DOB
Contact (Mob/email)
Available Days
Background
(Updated August-2022)
Applied: (yyyy-mm)
Progress/status/source

Wednesday/Sundays

Crew applicants for next race.

9-Start current list
Brad WELLS
19 August 1969
0400832131
brad@nmsurveyors.com
Wednesdays/Sundays
40 years of sailing skiffs
8-(2023-08 +
Racing on regatta for the previous season
Melville
BELL
10 December 1955
0414674977
melvillegbell@gmail.com
Wednesday
I have since got my international bareboat skippers license and I will be sailing in the Agean all of September 1st week of October 2023. Then I will be fine to crew.
8-(2023-02) +
local directory

End list for next race.

7-Finish current list