New Rules of Racing 2021-2025
Attention Skippers:   Rule changes from Jan. 2021.
Australian Sailing prescribes that the person in charge shall be a member of a Club affiliated to Australian Sailing and hold a current Australian Sailing Number (ASN).
Any crew member who sails shall be a member of a Club affiliated to Australian Sailing or have a SailPass  by clicking the SailPass links provided.
For help or further information contact John Barter on 0418 253 479.
Tender service pick-up
Skippers who have their yachts on moorings should drop crew at the marina and return to their mooring with just enough crew to moor. This way the tender makes less trips to service all yachts. The dropped of crew can notify the driver of outstanding crew from moored yachts and all can be achieved in less time with nobody forgotten.
Australia Day and Novice Skippers
A very special thankyou to Andy and the band for an exceptional performance on Australia Day.
The band attracted followers from land and sea to the variety of songs played. See pictures here.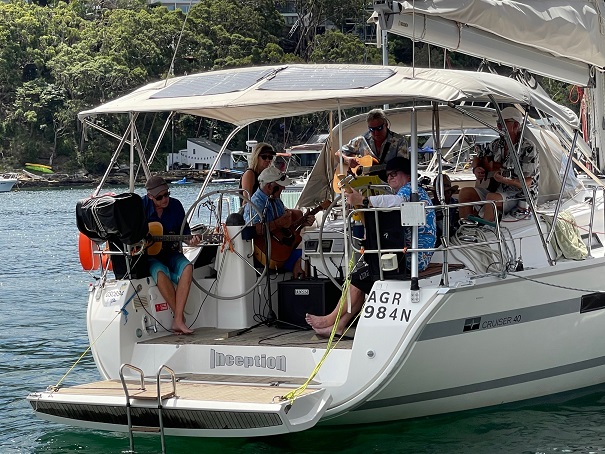 Broadwater race for novice skippers followed by Australia Day celebrations on 26-January-2021.
Read more for this year..........See last years results
Boat Rules for COVID19
Under public health orders, the 'occupier of premises' includes the operator of a vehicle or vessel.
For boat owners, this means the number of people you can have on your boat is restricted as follows.
On your vessel, you can have 25 people or one person per 2 square metres whichever is the greater.
People who live outside the Northern Beaches cannot enter Pittwater by boat unless they have an essential reason.