Vale - Fred Teiffel
It is with great sadness that we are advised of the passing of Fred Teiffel.
We wish him "Fair winds and following seas"
Fred had many achievements in his lifetime; as a Wartime flying instructor, adventurer, successful business man and the founder of the Port Hacking Ocean Yacht Club (PHOYC) back in 1964.
Fred was just short of his 98th birthday.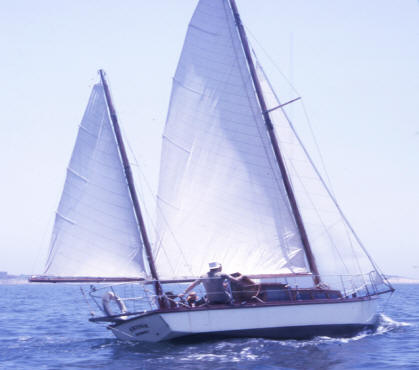 Akuna - Fred Teiffel's yacht that founded the PHOYC
Our condolences and best wishes to Ken and Margaret and all of the Teiffel family.
More details will follow shortly.
Anzac Day 2019
Extraordinary Episode Award
Novice Skipper - file to database
Novice Skipper 2019
| Boat | Chairs | Table Places | Novice | Party # | Start | Place |
| --- | --- | --- | --- | --- | --- | --- |
| Totals | 65 | 71 | | 65 | | |
| Inception | 8 | 0 | Steve | 8 | 12:05 | 1 |
| Sweet Chariot | ? | ? | Alison | 4 | 12:04 | 2 |
| Chinook | 6 | 6 | Lloyd | 6 | 12:10 | 3 |
| Happy Hour | 0 | 0 | Nikki/Ross | 2 | 12:11 | 4 |
| Possible Dream | 8 | 8 | Sheena | 8 | 12:09 | 5 |
| Crest | 0 | 0 | Neville | 2 | 12:14 | 6 |
| Majella | 5 | 5 | Edith | 5 | 12:13 | 7 |
| L'attitude | 24 | 36 | Tim/Julie | 12 | 12:20 | 8 |
| Rêve | 0 | 0 | Lynden | 2 | 12:12 | 9 |
| Whispering | 0 | 0 | Duncan | Can't stay | 12:12 | 10 |
| Axiom | 8 | 8 | Patrick | 8 | 12:19 | 11 |
| Defiance | 2 | 2 | Kylie | 2 | 12:11 | DNF |
| Pied Piper | 0 | 0 | form required | 4 | 12:00 | DNS |
| Airstream (crew) | 2 | 0 | Jim | 2 | Not racing | DNS |