Crew Registration
New Crew wishing to sail on racing yachts, please fill in the form.
You will then be placed on the list below.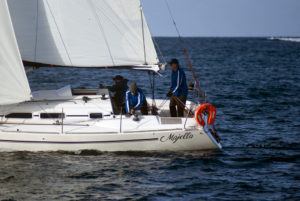 Sailing experience is not necessary, just a desire to discover.
You will also be contacted and put in touch with skippers to get you placed as quickly as possible.
Initially it will be to gain some experience on a yacht, so you may race on a series of boats until we can place you permanently.
How it works;
Crew - please note,
Must notify John Barter on 0418 253 479 and advise that they are available for the coming race. They will then be placed at the top of the list and Skippers will be notified of available crew. You need to let us know for each sailing day you are available.
Skippers;
Looking for Crew can see who is available for the next race and can make direct contact.
Crew available for next race are shown at top of the list.
Active Crew Listing
NAME
DOB
Contact (Mob/email)
Available Days
Background
Applied: (yyyy-mm)
Progress/status/source

---

Wednesday 20-Jan-2021 and Sunday 31-Jan-2021

9-Start current list
Stefano
GALIOTO
24/01/1981
0430670262
karli.yannoulis@gmail.com
Sundays
Hi guys, I just spoke to John regarding my partner, it's his 40th bday coming up and I wanted to surprised him with this... I have therefore provided my phone/email for now but can send his whenever needed... we would love the first available Sunday race day. If that was full we may be able to get a day off work for him to go on a wednesday... I'll just put down Sunday for now
8-(2021-01) *
Google
Mark
CAMPBELL
22/02/1962
0417 411 737
mark22campbell@gmail.com
Wednesdays and Sundays
No experience
6 years ago sail about 10 races
8-(2021-01) *
Internet

---

Crew notification below
7-Finish current list
Sam
POSETTI
28/07/1991
0432542129
sam.posetti@gmail.com
Sundays
I have just completed my ICC at Aus Sea Sailing school through IYT and hope to one day have my own boat for Ocean passages and social racing. In the meantime I am trying to get as much experience as possible on sailing yachts and am interested in being a regular and contributing crew member for any boats part of the RMYC.
Seperate from my course with AusSea I have done.
- Ocean passage Indonesia to Thailand 7 day liveaboard. (RYA Day Skipper).
- Spinnaker course and race experience through Botany Bay Yacht Club.
- I have been crewing with a TP52 on Wednesday afternoons in Sydney harbour. And plan to continue to do so in the New Year.
I am young, enthusiastic, and reliable.
I look forward to the opportunity to crew with a racing yacht.
6-(2020-12) *
Google
Clive
TOMPKINS
03/07/1966
0402932128
clive.tompkins@hotmail.com
Sundays
Fished for many years, watched lots of sailing videos, sailed a Hobie cat 16 once only at Dunsborough on holiday 5 years ago. Fit and healthy 🙂
6-(2020-11) *
Port Hacking sailing internet search
Richard
GATES
06/05/1957
0411209620
rgates.partners@gmail.com
Wednesdays and Sundays
sailing competitively for many years out of Hobart and Melbourne. Helm/ mainsheet/ jib trim/ kite float etc. Bass Strait racing etc..
6-(2020-11) *
Common sense
Archie
GARGETT
01/06/2003
0498236552
archie.gargett552@gmail.com
Wednesdays
I have been sailing for eleven years from when I was 6 to currently. I sail on high performance racing catamarans and have been in Australian sailings NSW squad for the past four years I sail all weekend but am available during the afternoons in the week. I am very fit as I attend the gym 2-3 times a week, I am 6ft 1 and 60-70 kg. I am aspiring to make a career out of sailing, I want to gain experience in yachting so that it adds to my range of knowledge.
5-(2020-11)
Google
Florencia
ROMANO
01/06/1996
0432 705 577
florenciaromano96@gmail.com
Wednesdays, Sundays
no sailing experience but fast learner and eager to give my best and to be of help.
5-(2020-08)
Google
Brett
JONES

0435 812 177
brett.jones@bullseyecx.com.au
I am a relatively new boating member at the RMYC. I am also a first time boat owner, with a small cole 23 ft. I have been through the sailing program with Marc at AusSea. I was hoping to find someone to come along with me to help build my confidence in sailing.
5-(2020-08)
Front Desk
Sally
LI
27/05/1969
0425 234 211
pswa@tpg.com.au
Sundays
Inexperienced, very interested to learn to sail.
5-(2019/05)
Friend told
Bernadette
JONES
17/06/80
0410 657 613
bernadette_m_hickey@yahoo.co.uk
Wednesday
I have sailed to Hamilton Island with but not experienced. Love the ocean
5-(2019-10)
I have done it before with you guys
Kurt
DICKSON
24/06/2000
0421 771 213
kurt.dickson@icloud.com
Wednesdays, Sundays
Inexperienced, would love to learn how to sail.
5-(2019-07)
sutherlandshireaustralia.com.au/food-and-wine/clubs-and-pubs/
Jeanette
SORRENTI
24/07/1961
0425 211 527
jean24_hya25@hotmail.com
parents build small yacht and crew up with sailing dingy sundays. Bought 38ft in 1984 and spent 10 months sailing up to Cairns and back. Crossed pacific 1985 delivering yacht and then working on 57ft Tahiti and Marquesas. Tried again to cross Atlantic in 1991 but got drawn away to land for far too long. Have a strong want to sail again and learn again from a local skipper.
5-(2019-03)
Facebook
Jenny
DRAGANIC
11/10/1970
0413 027 037
jennydraganic@optusnet.com.au
Wednesday, Sunday
Sailed on Yknot on Discover Sailing Day. (inexperienced)
5-(2018-12)
from DSD
Carole
REED
20/02/1972
0448 381 366
Carolereeduk@gmail.com
Wednesdy, Sunday
Completed level 1 Aussea course. Married to John Reed. Would like to crew together if possible. (Inexperienced)
5-(2018-12) Discover Sailing Day. Sailing on Airstream (Sundays)
Paula
SINCLAIR
15/01/2071
0413 994 921
Plsinclair@optusnet.com.au
Wednesday, Sunday
Sailed as teenager and learn the skills of racing, am committed and work as a team member. Have navigation skills, and roping experience. (Moderate). Bought Impulsive.
5-(2018-11) Source-Internet. Sailed Sunday on L'attitude
Elizabeth
DREDGE
16/03/1977
0428 830 102
lizziemckenna@hotmail.com
Wednesday, Sunday
I have no sailing experience however I am very enthusiastic and have been keen to learn to sail for a very long time. I'm a Paramedic, so available some Wednesday's and Sundays. (Inexperienced)
5-(2018-11) DSD
Terry
BOURKE
12/12/1949
0423 559 667
bourke.terence@gmail.com
Wednesdays
Former boat owner and experienced sailor. (experienced)
5-(2018-10)
Sailed on Sweet Chariot 7/11
Patrick
HENSON
23/01/1991
0425287698
patrick@rhcs.net.au
Wednesdays, Sundays
Former club tender driver. (Inexperienced)
5-(2018-08)
Chinook, Yknot
Milo

0404 875 361
milorad.cvjeticanin@aon.com
Wednesdays, Sundays
Milo has expressed an interest in Club sailing. Milo has some past sailing experience and relishes the opportunity of getting back into sailing. He lives at Cronulla.
5-(2018-01) via Bill Gawne
Jenna
HUGES
28 years
0413 871 140
Jenna.hughes511181@gmail.com
?, ?
Hi I am wanting to learn how to sail and a friend who used to do your twi-light races said to ask to be put on the register. Are you able to give me a call? I'm 28 and really eager to learn
5-(2018-01)

---

Crew placed on yachts (below)

3-Start current list
Harry
MAGIROS
09/10/1967
0419290222
harry@magiros.com.au
Wednesdays
Available - 2nd, 16th and 23rd December
I have been Sailing Twilights from the CYC for the last year on Into the Mystic (Hanse 43 Cruising Yacht with race rigging) with Arthur Psaltis as a general hand tailing ropes and grinding winches predominantly. Previous to this my main sailing experience is windsurfing and small catamarans.
2-(2020-11)
referred to JB
Placed on Kite Runner
Peter
McKAY
13/11/1950
0411246668
peter_mckay2003@yahoo.com
Wednesdays
I have an NS14 and sailed for many years out of Kogarah Bay (not recently). I have crewed on a friends 24' home built boat many times, mostly on Botany Bay but occasionally on Port Hacking
I am available almost any day.
2-(2020-11)
Referred by RMYC member
Placed on L'attitude
Diana
SAUNDERS
16/07/1959
0409815237
disaunders@gmail.com
Sundays
I am an active (fit) lady, with 3 years racing experience on a Dufour 365 (Sweet Chariot), under the intense skippership of CAPT Alistair
2-(2020-09)
Regular Sailing Crew at RMYC
Sailing on Excentric
Steven
SAUNDERS
07/09/1960
0404827443
saundsjs@gmail.com
Sundays
40+ year experience, Initially on skiffs but now on more gentlemanly yachts. Most recent 5 years on Dufour 365 (Sweet Chariot)
2-(2020-09)
Alistair gave me the link
Sailing on Excentric
Tina
COSTANZO
18/08/1956
0458062031
tina.ecostanzo@gmail.com
Wednesdays,
I have sailed with Cronulla Sailing Club and continue to sail with them On Saturday's on Sea Hawk. Currently I have been sailing Wed. On Sweet Chariot and Inception. I am the buoy girl.
2-(2020-09)
Alistair gave me the link
Sailing on Excentric
Nic
HOILES
05/05/1993
0403 316 834
Nichoiles@hotmail.com
Wednesday, Sundays
Moderate experience sailing in Darwin, looking for more experience and to complete some sailing courses to be able to buy and sail own yacht.
2-(2020-03)
Word of mouth

Sailing with Pied Piper
Darryl
PUNNETT
21/11/1963
0413 883 539
darryl@punnettgroup.com.au
Wednesdays, Sundays
Hide Profile
Semi retired, looking to pursue my interests - sailing is one! Grew up on skiffs, cats and later in life, cruising east coast and Barrier Reef on the family sailing and power cats. Limited race experience, however, lots of common sense and very proficient water craft user.

2-(2020-03)
Always aware of the Club!

Sailing on Excentric 7th July and onward
David
BLAKE
10/03/1965
0414658238
david.d.blake@gmail.com
Sundays
Sailing since I was 7. Sailed every type of dinghy, skiffs, windsurfing. Had 5 years of racing with Botany Bay Yacht Club on 30' boat. Last 3 years have been social sailing on 35-45' chartered yachts as skipper. Just returned from a month of Bareboat chartering in Carribean as skipper.
I'll have my day skipper theory qualification completed by end-Feb. I have radio license.
I'm interested in getting back into regular sailing, I'm an easy-going person, I really enjoy racing, happy to jump into any role.

2-(2020-01)
google
Booked for L'attitude on Sunday 16th Feb, and onward if possible.
Matthew
SCHOFIELD
08/08/1987
0434 167 696
mjschofield@outlook.com
Wednesdays, Sundays
Some experience only basic. Live in Ewos Parade
2-(2019/06)
RMYC Member

Sailing on Steadfast
Toby
FRANCE
09/11/1989
0401925599
wtfrance@yahoo.co.uk
Wednesdays, Sundays
Recently emigrated from the UK with my young family and looking to take up sailing again. Have some previous experience including RYA competent crew but have not sailed in at least 8 years. Looking for any opportunity to get involved.
2-(2019/05)
google seach
Sailing with Pied Piper
Scott
JONES
13/06/1972
0409 507 706
ttocsenoj@gmail.com
Sunday
Minimal experience but willing to learn. Sailing crew member. (Moderate)

2-(2018-11) DSD,
Sailing on Steadfast
Nick
JONES
16/03/1988
0411 899 758
jonesnicholasj1@gmail.com
Wednesday, Sundays
I've been involved in sailing for 30 years. Crewed on yachts for many years and I'm Day Skipper qualified. I've just moved to Sydney and keen to get involved in the Twilight racing scene.
1-(2019-11)
Sailing Website

Uncontactable
Sonia
JONES
17/05/84
0450 160 227
Soniajones84@gmail.com
Wednesday
Basic knowledge. Love the ocean
1-(2019-10)
My wife told me!

Uncontactable
Jane
WYNN-JONES
2/2/1963
0413 763 334
mjwynnjones@gmail.com
Sundays
Sailed on an XYacht in Pittwater for the last 2 years and sailed VJ's in the olden days. Looking for something closer to home. I love it - Sailed inshore and offshore - mid deck. Keen, fit, reliable and fun.

1-(2019-09)
Online
JB called

Uncontactable
Matthew
WAUGH
28/03/1992
0433 497 147
m.waugh92@gmail.com
Wednesday

Experience on a laser and windsurfing in a lake for a number of years. Am interested in improving my skills. (Moderate)
1-(2018-11)

Uncontactable

David
DETORES

0421 719 154

Wednesdays
Has sailing experience. (Moderate)
1-(2018-04)
Yknot

Uncontactable